Dear AASR friends,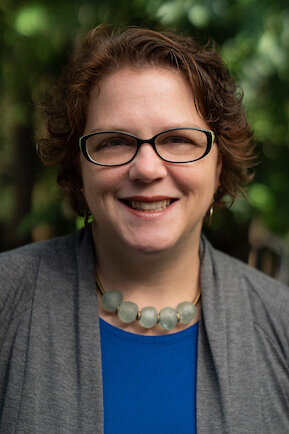 With deep pain, we share the devastating news that long-standing AASR member Rev. Dr. Melissa D. Browning passed away on April 8th, 2021, after living courageously and to the fullest while fighting cancer for the past several years. She leaves behind her husband, Wes Browning, and their daughter, Olivia.
Much beloved by her family, friends, community members, students, and colleagues near and far, she played a substantial role in our Association for many years, serving with dedication and integrity. This included serving on the Executive Committee as Assistant Secretary General and Webmaster (2010–2015), for which her husband Wes generously provided technical expertise and web support and continued to do for several years following the conclusion of Melissa's tenure. As Asst. Secretary General, Melissa served meritoriously and in many instances did the "heavy lifting," always with grace, cheerfulness, and selflessness.
Melissa was Interim Director of Contextual Education and International Partnerships at Columbia Theological Seminary and is remembered as an outstanding feminist theologian, ethicist, and activist, with long-standing connections in East Africa and the rest of the world. Melissa's teaching, community activism, and scholarship, and especially her bold book Risky Marriage: HIV and Intimate Relationships in Tanzania (Lexington 2013), remain a testament to her intelligence and humanity. AASR members remember her as an incredibly pleasant and personable colleague who was deeply loved and admired by many, and a consistently hardworking colleague who did much to build and strengthen the Association.
You can read more about Melissa's life and work here, while her personal blog may be found here https://posthope.org/mbrowning.
We remember her family in these moments as they grapple with this painful loss. May the richness of the joy and hope that Melissa offered the world so graciously be an inspiration; and may we as an Association continue to honor her legacy of service, energy, dedication, and love for Africa.
Rest in power, Melissa!
Update: Please read Rev. Dr. Melissa D. Browning's full obituary here. Details on donations and tributes among others can also be found here https://www.melissabrowning.com/.